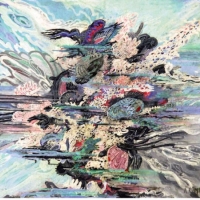 I had the opportunity to meet Alma Rumball's family when I was in Ontario in July. I had been corresponding with Wendy Oke, who is married to Alma's nephew, Colin. They have a massive collection of Alma's paintings, and I was lucky to see the originals.
The best part of seeing an original collection is that you get to see everything – what came before the pieces we know and what came after. Firmament – the painting shown above – was done in the 1950s, before Alma's spirit came to her. I was surprised to see how radically different it was from the others. It was not drawn, but painted in lavish, lush, thick brush strokes. In a word – gorgeous.
The image below, is one of Alma's paintings from the 1970s. It is called Ego-and-Soul. It was done after her stroke, when she was no longer able to do the fine-detailed pencil drawings. They also have that luxurious quality of her early work, and I marvel at how unique those drawings "in between" came about.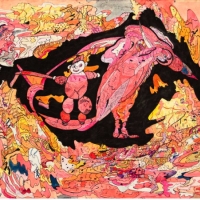 I have been reading a bit more about art created under spiritualistic inspiration. It is fairly well-documented, and there are diverse opinions about its origin. Some hold that it is merely an alibi – something that gives the artist permission to make art. Others maintain that the artists created their work while under the influence of a someone or something from the spirit world.
I don't have an answer. Any thoughts?