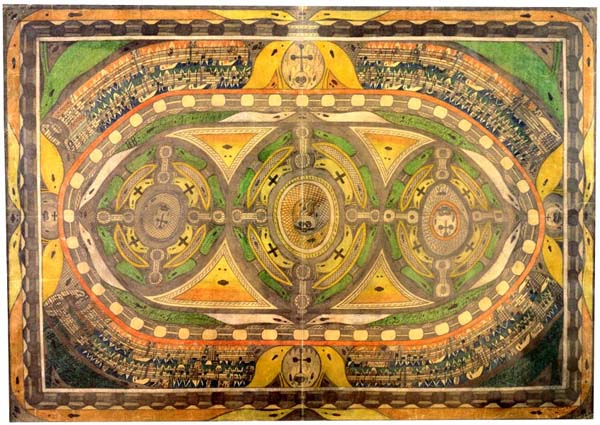 I know this blog is supposed to be about Canadian outsider art, and I will get back to that topic soon. First I have to tell you about my side trip to Prague when I was in Berlin. I was extremely lucky that a very large collection of Adolf Wölfli's work was on exhibit at the time.
Adolf Wölfli (1864–1930) is one of the granddaddies of all outsider artists. He was born in Bern, orphaned at the age of 10, lived in state-run foster homes, worked on a farm, and ended up in a psychiatric hospital where he spent the rest of his life. He suffered from psychosis and vivid hallucinations. Wölfli had no previous interest in art, but began drawing spontaneously around 1899 while he was institutionalized. His collection grew to about 25,000 pages of writing and 1,600 drawings.
Wölfli's prolific writing started with his autobiography From the Cradle to the Grave. It begins in the usual way, with information about the date and place of his birth, and then quickly transforms the details of his desolate life into an epic story of his magnificent childhood. The main character is named Doufi (from Adolf) who leaves Switzerland for America with his family. For the next 3,000 pages, illustrated with 750 drawings, maps, and portraits, Doufi travels around the world and survives grand and dangerous adventures.
In the second part of Wölfli's writings, the Geographic and Algebraic Books, St. Adolf II describes how to carry out the St. Adolf Giant creation after his death. The earth will be purchased, then the universe. Numbers cannot express the gigantic dimensions of his mental world, so Wölfli expands the numerical system after quadrillion to include regonif, suniff, untif, vidoniss, weratif, xylottif, and so on to the highest number called "anger".
In the third and fourth collections of writings, Books with Songs and Dances and Album Books with Dances and Marches, Wölfli celebrates his world in poetry, song, scales, drawings, and collages. During the last year of his life, Wölfli worked on a final collection called the Funeral March, as if he were composing a requiem in anticipation of his own death. He illustrates the central themes of his world system in keywords and collages of pictures torn from magazines.
A clinic doctor became interested in Wölfli's artwork and saved thousands of pages of writings and drawings. Dr. Walter Morgenthaler later published a book  Ein Geisteskranker als Künstler (A Psychiatric Patient as Artist), which introduced his patient to the art world. French artist, Jean Dubuffet, saw the work of Wölfli and other artwork from patients in psychiatric institutions and "Art Brut" was founded. (See first post, When you come to a fork in the road.)
The exhibit in Prague was called Wölfli – Creator of the Universe and that was an appropriate description of his life's work.  The exhibit offered a cross section of Wölfli's oevre in about 10 rooms of exhibit space.  I watched as viewers inched through the exhibit, savouring the details of every piece. It was definitely not an exhibit to breeze through on your way to the gift shop.
Wölfli's drawings are extremely intricate; every inch of the page is filled with details that we have come to recognize: his symbolic bird figure, the man with racoon-like eyes, mandelas, tiny dots and later, musical notes and text. At one point Wölfli told the hospital staff that he did not produce the work himself. He thought it should be obvious that he had divine inspiration to produce the artwork as he would never have been able to create it from his own mind. In another comment, Wölfli says that he knows his work is the product of an insane person. I wondered if the line between fantasy and reality was always blurred or whether he had moments of clarity. What is it like to be the creator of a universe?
To sum up Adolf Wölfli's life work in a few paragraphs does not do justice to the depth and scope of his universe. There is always more to see, more to hear. The next blog will be about Wölfli's musical compositions.